Unisource International is proud to offer state-of-the-art intrusion detection systems in Pakistan. Our solutions effectively and reliably detect and deter acts of intrusion and protect your property. Unisource International has been been providing valuable industrial services for over 20 years in Pakistan. For further details about Unisource International please click here.
The scope of our security services is highlighted here.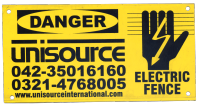 An electric fence deters, detects, denies and defends your property. It is based on a strong psychological barrier that keeps away intruders by providing a very painful and disorientating but NON LETHAL shock which makes it impossible to climb the fence.
Deters: physical and psychological barrier
Detects: automated alarm in case of breach attempt.
Denies: strong and painful yet non-lethal shock to the perpetrator
Defends: round the clock automated operation, even in extreme power outages and severe weather conditions
To find out more about electric fences and their working please visit this page.
Unisource Electric Fence Solutions
Designed to meet your specific requirements.

Residences
Ideal security for homes, villas and farmhouses.
Automated, round the clock security.
No false alarms even in extreme weather conditions.
Simplest operation and zero maintenance.

Business and Industrial
Reliable security for your business, factory and warehouse.
Automated, round the clock protection.
Single or Multi-zone systems.
Integrate with CCTV or other security system.
Optional SMS and email monitoring and alerts.

High Security and Government
Fully Automated detection and alarm.
Best Perimeter defense to augment your security setup.
Multi-zone systems identify exact location of alarm.
Optional Command Center management and monitoring.
Remote Management and Alerts
We provide optional SMS and Internet based management and monitoring modules.  Please visit this page. 
Other Add-ons
Our systems can be integrated with existing CCTV setup. Please contact us for further details.
Technology Partners
Unisource is proud to work in collaboration with word renowned international and local security systems manufactures. We choose only the best products to provide you with reliable security solutions.
Unisource is proud to offer the Optellios FiberPatrol® systems for the first time in Pakistan.